Pocket Showroom
Fashion collection Web App for retail partners
Pocket Showroom is a place for retail and wholesale buyers to explore and experience Tommy Hilfiger collection for any season and division. 
By providing easy access to rich content, such as seasonal theme & story, divisional content, marketing material, personal assortments, the platform helps our sales team to keep our wholesale buyers confident, engaged and inspired for Tommy fashion.
Brand:
Tommy Hilfiger
Team:
PVH Innovation lab, OneUp
​
When:
April - Sept. 2018
Story
In February I came up with the idea of an interactive platform where our B2B partners can get familiar with the latest developments of the season. The concept was successfully pitched to the highest management and selected as an initiative to be further validated. I received budget and team in order to validate the concept and to build and test the MVP solution.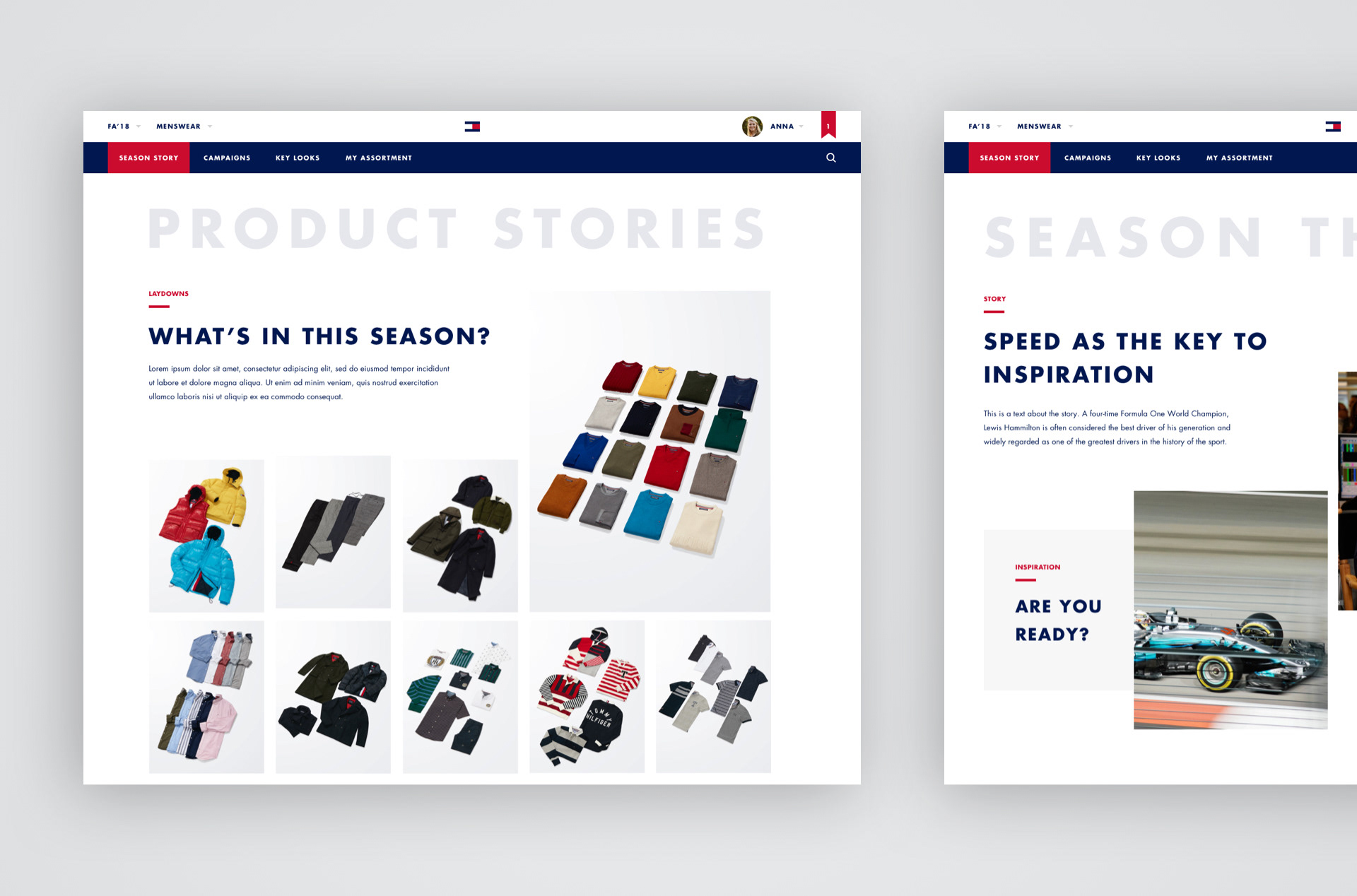 Focus
B2B fashion audience is extremely diverse. After countless problem interviews, we managed to divide our audience into 3 persona groups. We discovered that we mainly have to focus on the buyer group which we referred to as "Old generation". This audience was most used to personal attention from the sales team. They also expected to receive the largest amount of information and visual content.
Process
After conducting the initial design sprint (thank you to our partners in OneUp agency) we came up with an initial prototype which we successfully pitched and received a "go" for further validation. For the following two months we passed four validation phases: discovery (problem) interviews, solution interviews (and the first prototype based on direct user feedback), user testing (improved clickable prototype), and "Wizard of Oz" MVP (mimicking functional product with minimum code).
Our goal was to create a product that will remotely increase and maintain inspiration, engagement, and confidence of our buyers throughout both the buying and selling seasons.  

The following product values were key to the platform's success:
01.
Turning our wholesale buyers into brand ambassadors by increasing their engagement with our brands  
02.
Decreasing the reliance on face-to-face selling by enabling buyers to explore season story remotely
03.
Maintaining B2B webshop sales on a high level by keeping wholesale buyers confident and well-informed about the direct & forward season they are purchasing
At this point, we recruited 10 early adopters out of our wholesale buyers who agreed to spend at least 1h per week on testing our product and sharing feedback.
User testing results & Future
The product was developed as a simple MVP and tested with 10 early adopters. We proved that although the MVP solution met their expectations and had a very positive feedback in general, it was very closely associated with B2B webshop experience. 
We proposed the collaboration to B2B teams and it was accepted. Pocket Showroom is going to become part of the forward(seasonal) ordering flow in summer 2019.